Enhanced Editor with image Manager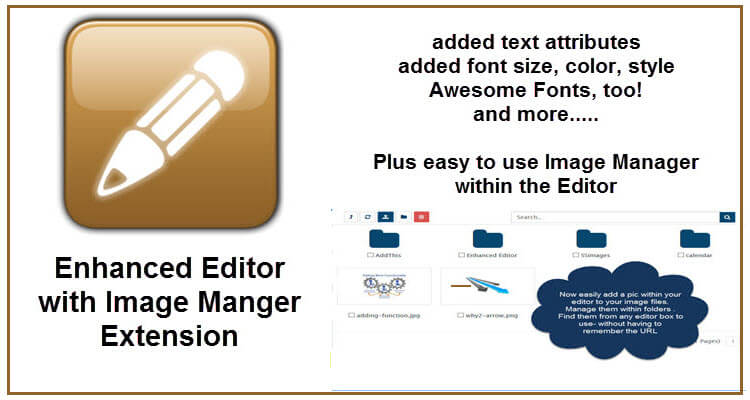 AbantecartCart Version(s) 1.2.9 use Enhanced Editor v 1.2.9
AbantecartCart Version(s) 1.2.7 - 1.2.8 use Enhanced Editor v 1.2.7.3.
AbantecartCart Version(s) 1.2.6 use Enhanced Editor v 1.2.6.1
AbantecartCart Version(s) 1.2.0 – 1.2.5 use Enhanced Editor v 1.2.1. 
Read the Manual.  Try the DEMO  
Our clients missed some of the former features in previous versions so we've brought them back plus a few extras.  And included an Image Manager to easily manage the images that you want to use in the description field.  It has easy uploads, including drag and drop;  and organization by folder.
This extension replaces the default editor with additional functions:
- Search with Find and Replace
- Select All (for easily starting over)
- Spell Check As You Type (enabled)
- Awesome Fonts  - with color and sizing options within the font screen
- Smileys - if you can't resist using them
- Page Breaks if you are concerned about printing
- Show Blocks (for easier editing)
- Quick Preview of the field
- Print of the field  (helps if you've a lot of changes needed or want to refer to a layout)
- Templates (for the field box only)
- Text attributes - added Underline, Subscript, Superscript
- Text Alignment - left, center, right and justify
- Text direction - left to right or right to left
- Text Styles (added more choices)
- Font Selections
- Font Size
- Font Color
- Text Background color (highlight)
PLUS the Image Manager - now you can easily add a graphic to the image file within your editor and locate it again from any other editor.
Single Installation License
$30.00
Single installation, is for use by single site or one copy of application using this extension
Viewed 14085 times
Details
| | |
| --- | --- |
| Extension ID: | editor |
| Extension Latest Version: | 1.2.9 |
| AbanteCart Version: | 1.2, 1.2.6, 1.2.7, 1.2.8, 1.2.9 |
| Created: | Aug 24, 2015 |
| Last updated: | Jan 17, 2017 |