What is the Marketplace?
Our marketplace provides third-party extensions or add-ons for the AbanteCart eCommerce platform. Extensions add new functionalities or features to open source shopping cart. Such features can be something like additional payment or shipping methods, new templates or skins, integrations to other eCommerce-related services, reporting tools and more. Extensions are provided by independent developers and can be commercial based on some fixed fee or free. Information about the developer of a particular extension is available on the extension details page.
Extensions are listed by categories or can be searched by various keywords on marketplace.abantecart.com or inside AbanteCart admin in extensions -> extension store section.
To download free or paid extension, user registration with valid email address is required.
We respect customer's privacy and keep all personal information secure.

Get help with an extension you purchased in the Marketplace
The purchased extension is provided with 120-day support from an author. AbanteCart extension help and support is provided solely by developer of extension you purchased. Developer can be contacted via Get Help on the order's details page or directly on download's page. Read article on how to get support

What is an extension?
AbanteCart Extension is additional set of files or components to be installed into AbanteCart. Extension adds new features or functionality to open source shopping cart and improve user or administrator experience using AbanteCart.
Extension is basically an archive of files necessary to be added to one main directory /extensions/ under AbanteCart main folder. Once new extension directory and files are added, extension is accessible in administration interface to be installed and used.
How to download and install extension?
All purchased extensions will be available for download in account download section on marketplace.abantecart.com or inside AbanteCart admin. You can install extension 3 different ways with easiest listed first:
1. Install extension with install button in admin.
Just click the button and follow the installation process
2. Install extension with unique download key provided in Marketplace account download section
Copy and paste the download key into the admin extension installation section. Follow installation process
3. Upload extension archive from your computer to admin extension section
Here, you need to download extension '.tar.gz' archive to your computer first and after that upload it to AbanteCart admin extension section.
Read more about extension installation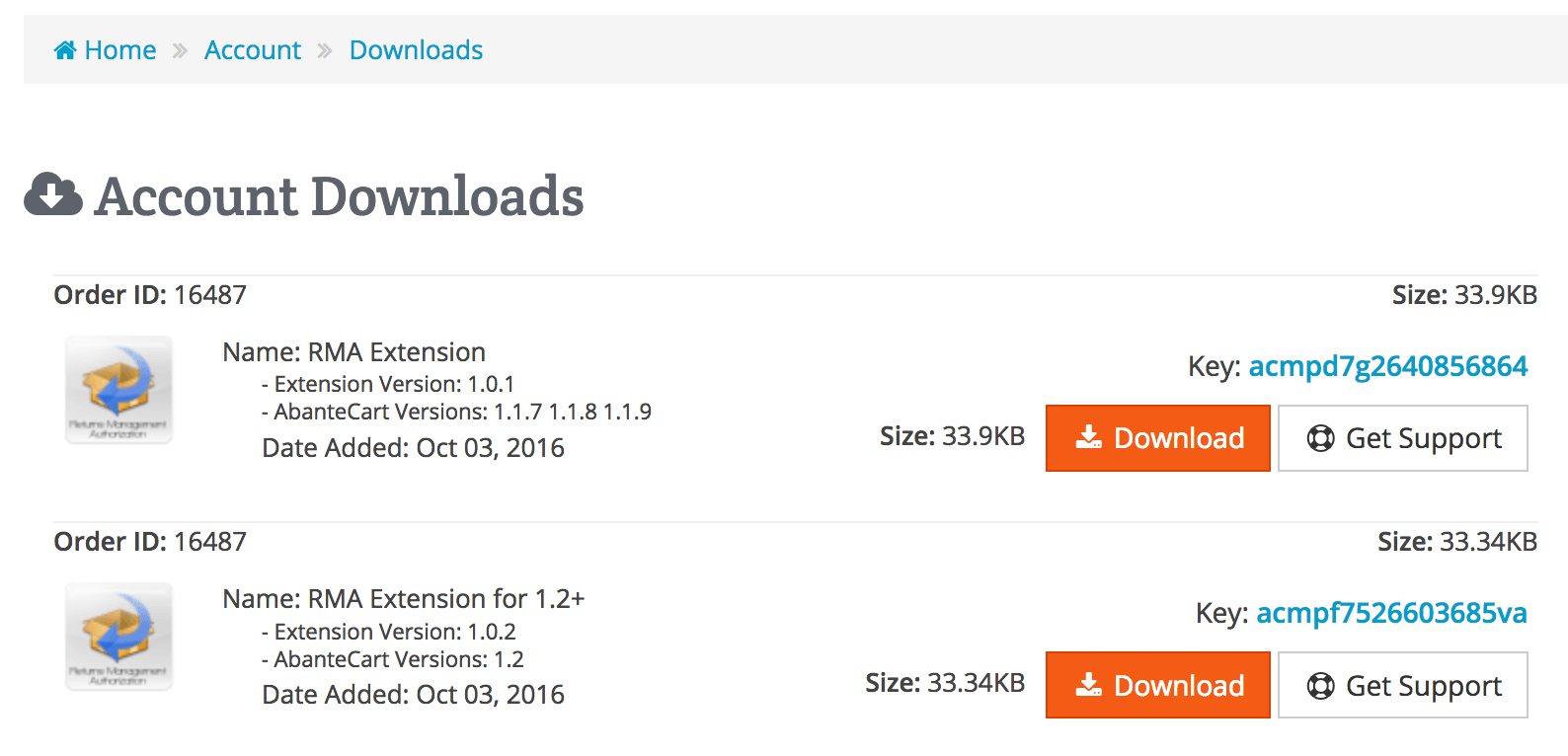 How to open extension archive .tar.gz
A .tar.gz file is a compressed archive similar to zip and RAR files. To extract .tar.gz files on Windows use 7-zip (freeware) or Winzip (commercial). After 7-Zip installed, try to open your .tar.gz file. 7-Zip will start up and decompress the archive. And if it still doesn't extract, do it manually via the context menu: right-click on the archive and choose one of the "Extract" options.
Mac OS and Linux OS operating systems can handle .tar.gz file by default. In OS X Just double-click the archive and it will extract to a folder of the same name.
How to update extension
If extension is updated by developer, notification will be sent to make users aware of update. Upgrade package will be available for install if offered by developer.
Where is AbanteCart Community Forum?
AbanteCart forum.
Can I modify purchased extension?
Due to the open-source nature of the application, extension code can be modified. For more specific details please contact the extension developer.
My order support is expired

If your order support has expired, you will not get any updates for your extension and developers might refuse with the support requests. If developer allows to extend support you can purchase extend support and get extensions upgrades.
My extensions page is empty
If you connected your AbanteCart store in the admin, the My Extensions page show purchased extensions assigned to your store only. If you purchase extensions to another domain(s) for example your connect store with the store URL www.yourstore.com but your previous purchases were for subdomain.yourstore.com or yourstore.com/autoparts/ or not assigned to any store the AbanteCart administration will not show them, however you can download extension installation files in your Marketplace Account -> Extension Downloads page
AbanteCart Store Url: Unknown (new)

What should I do if the store url of my online order is wrong? First of all try to disconnect and connect your store in AbanteCart admin. If you have any further issues, please contact our support with your order number and store URL
What is included in the 'Extended support'?
With the 'Extended support', you benefit from all minor and major updates offered by the extension author & support as soon as the support period is active.
Note: the 'Extended support' does not include specific or custom developments for your online store.
How much does the 'Extended support' cost?
The fee is 30% of the extension price at the time of purchase. This fee reflects the time and work that extensions authors put into maintaining extension as well as providing technical support to help you.