ReOrder Extension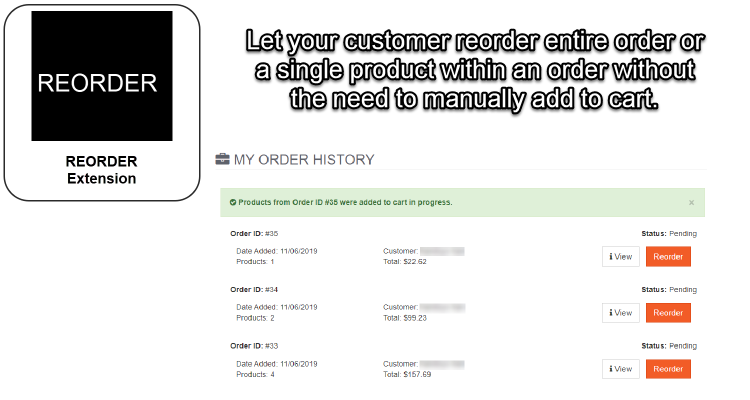 AbanteCart v1.3.2 use Reorder v1.3.2.11. Tested up to PHP 8.0.
AbanteCart v1.3.1 use Reorder v1.3.1. Tested up to PHP 8.0.
AbanteCart v1.3.0 use Reorder v1.3.0.1. Tested up to PHP 8.0.
AbanteCart v1.2.16 use Reorder v1.2.16.4. Tested up to PHP 7.4.
AbanteCart v1.2.15 use Reorder v1.2.15.4.Read our manual
Please refer to the manual for the most current information regarding this extension – this includes extension versions and which AbanteCart versions are compatible, change log for fixes and enhancements, notes for correct operating requirements including any known other third-party extensions conflicts and if we have a solution for the conflict
ReOrder button shows on customer My Order History page for all previous orders.
ReOrder button shows on each product on Order Details page.
Messages for each action so customer is aware of transactions:
 -  Products for Order #xx were added to cart in progress
 -  Products from Order #xx were partially dded to cart in progress.  And the added and unavailable along with the reason  are listed
 -  Products with options message - lists the options that were previously used  along with Please check product options for desired changes and stock status.
This extension is recommended to users of 
Build A Gift extension
.
Single Installation License
$25.00
---
Single installation, is for use by single site or one copy of application using this extension
Extension is provided with 120 day support from author with free upgrades within this time frame

| | |
| --- | --- |
| From | United States |
| Member since | May 16, 2015 |
| Avg. Response Time | 49 minutes |
Viewed 48212 times
Details
| | |
| --- | --- |
| Extension ID: | reorder |
| Extension Latest Version: | 1.3.2.11 |
| AbanteCart Version: | 1.2.15, 1.2.16, 1.3.0, 1.3.1, 1.3.2 |
| Created: | Feb 16, 2020 |
| Last updated: | Aug 01, 2022 |