AbanteCart Page Builder (Beta release)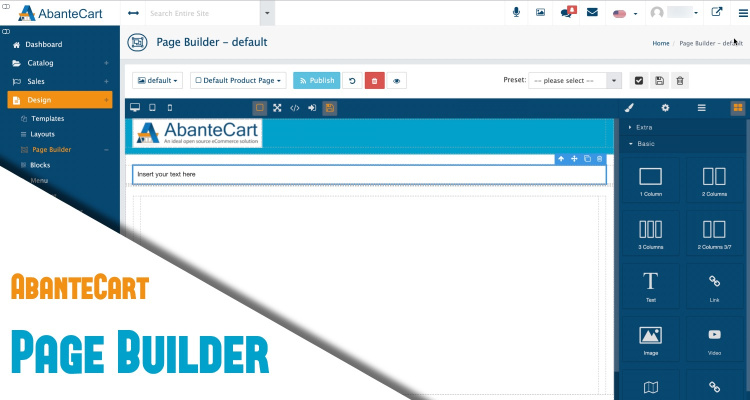 Page builder plugin for AbanteCart 1.3.3 or higher which allows you to create website pages and content with drag and drop.
The builder comes with a live drag-and-drop interface right in the admin interface. You get to see all your changes as you add them by simply dragging elements from the right sidebar and dropping them on your page. You can click on any element on a page to edit its properties.
AbanteCart Page Builder features
click preview to see your new design before publish
import HTML
custom CSS and JS blocks
Undo feature
Auto-save
Save as preset. Save layouts for future use on your site
Publish changes
Note: This is an alpha release
Alpha releases are strictly for testing purposes only, may break your site, destroy your page layout or the whole planet.
Usage notes
AbanteCart 1.3.3+ required and
new bootstrap 5 template
is recommended.
Please install page builder extension before you install the bootstrap 5 template in order to properly get default presets
.
Before starting using this extension, you might need to backup, should have previous HTML knowledge, and should have at least basic familiarity of using CSS styles. You should have a basic understanding of how to manage HTML, javascript and styles
To report bugs and issues please open a new issue in the bug tracker page
Pull requests are welcome GitHub
Single Installation License
FREE
---
Single installation, is for use by single site or one copy of application using this extension
| | |
| --- | --- |
| From | United States |
| Member since | Apr 28, 2014 |
| Avg. Response Time | 1 days, 0 hours, 48 minutes |
Viewed 50337 times
Details
| | |
| --- | --- |
| Extension ID: | page_builder |
| Extension Latest Version: | 1.0.3 |
| AbanteCart Version: | 1.3.3 |
| Created: | Dec 01, 2021 |
| Last updated: | Nov 16, 2022 |