Best Offer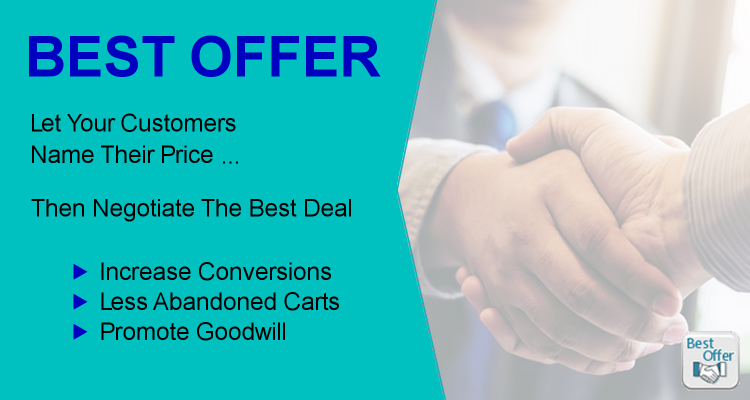 Let customers pay what they want!
Yep, that's what I said. Studies have shown that empowering your customers to set a custom price increases sales and reduces abandoned shopping carts. Customers can get emotionally attached to a product but the one thing that stops them from buying is the price. What if they had the ability to set their own price - to tell you what they would pay for your product?
This extension allows you to do just that. Customers can either buy at the listed price or make an offer. When the customer submits an offer you then have the ability to negotiate the best price with your customer and close the sale. This is a proven marketing tactic to grab attention and make customers feel they have control over the purchase process. This increases trust between you and your customers and promotes long term goodwill.
It's virtual bargaining. Never lose a customer again because of the price.
How Does It Work?
Choose the product to accept offers.
You set the minimum price you will accept for your product (optional).
You set the minimum price for which you will automatically accept their offer (optional).
Your customer makes an offer.

If offer is over your minimum amount, the offer is placed.
If the offer is over the minimum auto-accept amount, the offer is accepted and the item is placed in the customers shopping cart with the offer amount.

You now have the ability to Accept, Decline or provide a Counter offer.
If you countered the offer, the customer now has the ability to Accept, Decline or Counter your offer.
The process goes back and forth until you have successfully negotiated a final price.
When either you or your customer accepts the last offer, the product is automatically placed in the customers shopping cart at the agreed upon price.
This is also a great tool to determine the correct list price for a product. With multiple offers for a product, you can easy determine what customers are willing pay. You can then determine the final list price for your product based on real data, not just a hunch! This will keep you competitive in the marketplace.
Features? Yep!
You control the offer price limitations.
Optionally auto-accept offers.
Customers can choose the product options for their offer.
Customers can make an offer for just one or multiple quantities of your product.
Full customizable email communication through every step in the process.
No noisy offers. The same customer cannot make multiple offers for the same product while the current offer is "live".
Optional offer expiration time limits on offers and counter offers.
Custom "My Offers" page for each customer.
Automatic reminder emails if customer has not completed the checkout process.
Integrates with your existing store template.
Compatible with most other extensions.
December 18, 2022 - Version 1.3.2 Released - minor bug fixes
March 6, 2022 - Version 1.3 for AbanteCart 1.3 Released **
** tested with php version 1.8
Single Installation License
$34.95
---
Single installation, is for use by single site or one copy of application using this extension
Extension is provided with 120 day support from author with free upgrades within this time frame
| | |
| --- | --- |
| From | United States |
| Member since | Apr 03, 2016 |
| Avg. Response Time | 11 days, 22 hours, 34 minutes |
Viewed 33826 times
Details
| | |
| --- | --- |
| Extension ID: | offer |
| Extension Latest Version: | 1.3.2 |
| AbanteCart Version: | 1.2+, 1.3+ |
| Created: | Jan 12, 2021 |
| Last updated: | Dec 18, 2022 |