Multiple Price Changer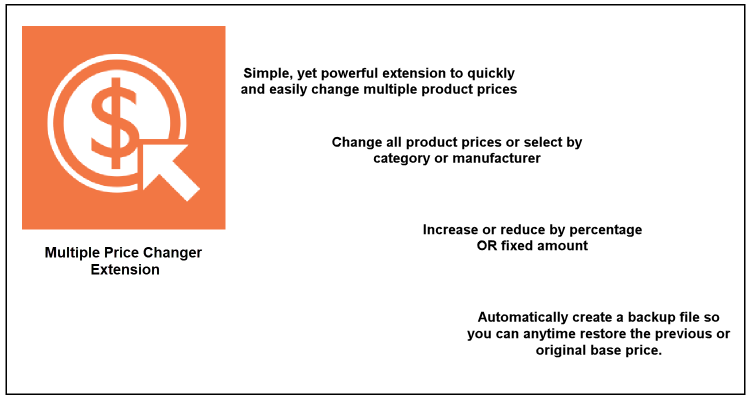 AbanteCart v1.3.2 use Multiple Price Changer v1.3.2.11. Tested up to PHP 8.0.
AbanteCart v1.3.1 use Multiple Price Changer v1.3.1. Tested up to PHP 8.0.
AbanteCart v1.3.0 use Multiple Price Changer v1.3.0.2. Tested up to PHP 8.0.
AbanteCart v1.2.16 use Multiple Price Changer v1.2.16.4. Tested up to PHP 7.4.
AbanteCart V1.2.15 use Multiple Price Changer v1.2.15.4.
AbanteCart V1.2.6 – v1.2.13 use Multiple Price Changer v1.2.6.Read our manual
Please refer to the manual for the most current information regarding this extension – this includes extension versions and which AbanteCart versions are compatible, change log for fixes and enhancements, notes for correct operating requirements including any known other third-party extensions conflicts and if we have a solution for the conflict
This extension helps you to change multiple product base price at the same time.
Ideal to use if a supplier has a price change over an entire line or you need to increase or reduce your pricing point a on number of products. 
Features:
-Filter products by categories, manufacturers or both of them at the same time.
-Increase or reduce by percentage OR fixed amount
-Use Multiple Price Changer to do manual price changes also. Either to alter a calculated change or to make manual price changes quicker.
-The extension also will automatically create a backup file so you can anytime restore the previous or original base price.  
Additional Information:   We write our extensions for our clients as part of our managed services.  This means our extensions are used daily by a lot of folks and we support and keep all extensions up to date.  So if you need an extension from us to enhance your eCommerce site, you will find it works and we keep it working. We also provide ongoing support via our support ticket system, just in case you need a little help. 
Single Installation License
$25.00
---
Single installation, is for use by single site or one copy of application using this extension
Extension is provided with 120 day support from author with free upgrades within this time frame

| | |
| --- | --- |
| From | United States |
| Member since | May 16, 2015 |
| Avg. Response Time | 2 hours, 34 minutes |
Viewed 66771 times
Details
| | |
| --- | --- |
| Extension ID: | multiple_price_changer |
| Extension Latest Version: | 1.3.2.11 |
| AbanteCart Version: | 1.2.6, 1.2.7, 1.2.8, 1.2.9, 1.2.10, 1.2.11, 1.2.12, 1.2.13, 1.2.15, 1.2.16, 1.3.0, 1.3.2 |
| Created: | Jan 21, 2019 |
| Last updated: | Aug 01, 2022 |