MailChimp Integration Extension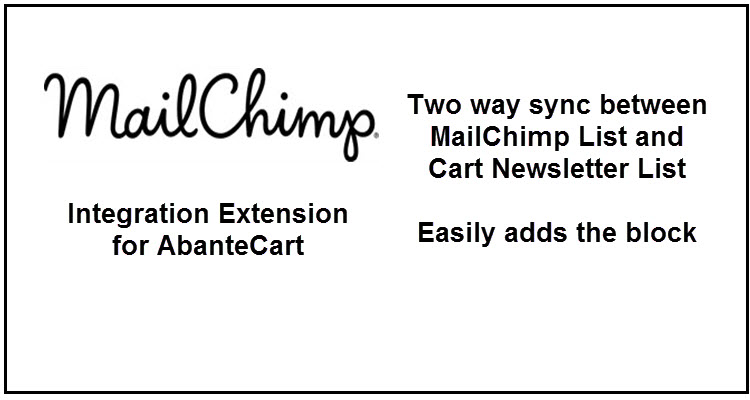 AbanteCart v1.3.2 use MailChimp Integration v1.3.2.11. Tested up to PHP 8.0.
AbanteCart v1.3.1 use MailChimp Integration v1.3.1.11. Tested up to PHP 8.0.
AbanteCart v1.3.0 use MailChimp Integration v1.3.0.11. Tested up to PHP 8.0.
AbanteCart v1.2.16 use MailChimp Integration v1.2.16.11. Tested up to PHP 7.4.
AbanteCart v1.2.15 use MailChimp Integration v1.2.15.11
AbanteCart v1.2.0 – v1.2.13 use MailChimp Integration v1.2.8.3.Read our manual
Please refer to the manual for the most current information regarding this extension – this includes extension versions and which AbanteCart versions are compatible, change log for fixes and enhancements, notes for correct operating requirements including any known other third-party extensions conflicts and if we have a solution for the conflict
If you're serious about email marketing and sending quality newsletter to inform your customers and stimulate your sales moving that type of traffic off your eCommerce site to mail handling provisioned servers is the smart move.  Keep your website pages loading quickly and your newsletter campaigns high functioning and getting delivered to your recipients by distributing the activities to the proper locations.
MailChimp Integration Extension for AbanteCart – enables you to have two way sync between your MailChimp List and your Cart Newsletter List.
Export existing newsletter list to MailChimp List
Keep synchronized between MailChimp List and Cart newsletter list.
Example Scenarios:
     - If customer unsubscribed via email instead via cart user panel.
     - Customer re-subscribed via email instead via cart signup form.
     - You're using MailChimp generated form as the signup form.
You need a MailChimp account to use this extension.
Additional Features:  We offer two ways to have a signup form.
You can add additional information above and/or below your signup form display area using the Content tab. This uses the standard block editor, one for each section; top content and bottom content.
Or configure a custom form within your MailChimp account.
Single Installation License
$24.00
---
Single installation, is for use by single site or one copy of application using this extension
Extension is provided with 120 day support from author with free upgrades within this time frame

| | |
| --- | --- |
| From | United States |
| Member since | May 16, 2015 |
| Avg. Response Time | 15 minutes |
Viewed 94739 times
Details
| | |
| --- | --- |
| Extension ID: | integration_mailchimp |
| Extension Latest Version: | 1.3.2.11 |
| AbanteCart Version: | 1.2+, 1.2.6, 1.2.7, 1.2.15, 1.2.16, 1.3.0, 1.3.1, 1.3.2 |
| Created: | Jul 28, 2015 |
| Last updated: | Jul 30, 2022 |