Quick View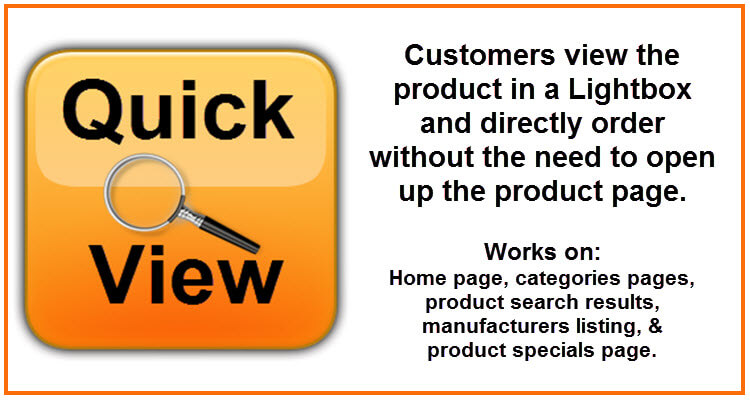 AbanteCart Version(s) 1.2.16.1 use Quick View v 1.2.16
AbanteCart Version(s) 1.2.15 use Quick View v 1.2.15.1
AbanteCart Version(s) 1.2.10-1.2.13use Quick View v 1.2.5.2
AbanteCart Version(s) 1.2.3-1.2.9 use Quick View v 1.2.4.3
This extension will let customer view the product in Lightbox and directly order without the need to open up the product page.  Adds a Quick View on home page, categories pages, product search results, manufacturers listing, and product specials page.
Includes optional display of Lightbox to allow for rounded corners and optional border colors and border width.
Read the Manual. Please refer to the manual for the most current information regarding this extension – this includes extension versions and which AbanteCart versions are compatible, changelog for fixes and enhancements, notes for correct operating requirements including any known conflicts with other third-party extensions and if we have a solution for the conflict.
Single Installation License
$18.00
---
Single installation, is for use by single site or one copy of application using this extension
Extension is provided with 120 day support from author with free upgrades within this time frame
| | |
| --- | --- |
| From | United States |
| Member since | May 16, 2015 |
| Avg. Response Time | 1 hours, 56 minutes |
Viewed 16659 times
Details
| | |
| --- | --- |
| Extension ID: | quick_view |
| Extension Latest Version: | 1.2.16.1 |
| AbanteCart Version: | 1.2.3, 1.2.4, 1.2.5, 1.2.6, 1.2.7, 1.2.8, 1.2.9, 1.2.10, 1.2.11, 1.2.12, 1.2.13, 1.2.15, 1.2.16 |
| Created: | Jun 08, 2016 |
| Last updated: | Jan 12, 2021 |