Blog Social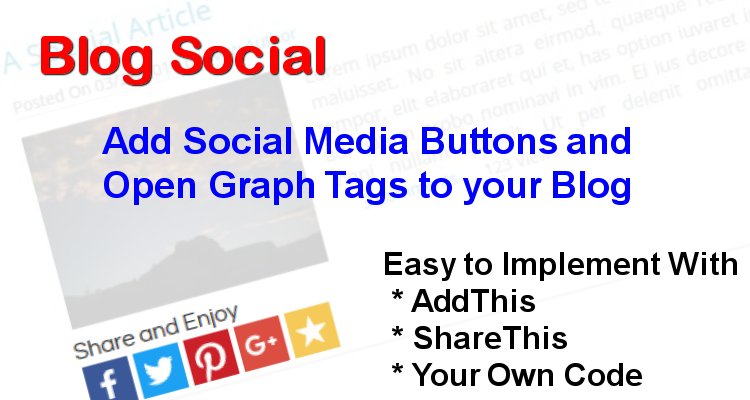 Blog Social
* Add Social Media Buttons to your Blog pages
* Add Open Graph and Twitter Tags to your Blog pages
You can easily add social media buttons to your blog posts and pages with this easy to use tool. Sharing buttons help you increase your audience by engaging with people across social media sites as well as help distribute your content and increase traffic to your blog. Place buttons anywhere on the page: as many as you want and as many sources as you want. Button sets are automatically customized with data from each article on the page.
Use AddThis or ShareThis services or enter your own code. Using a service requires you to open an account with the service.
Open graph tags are one way social media sites get the information you want to share and the best method. Otherwise the social media sites have to guess what information to use. These tags are placed in the head section of your pages code and recognized by most of the major social media sites. Twitter uses their own tags and you can choose to include either or both in your blog pages. Tags will automatically populate with the data and image associated with your blog article. Use a default custom image for other pages.
This extension only works with the Blog Manager extension. Open Graph and Twitter Tags will only show on your blog pages, not the rest of your site.
Version 1.0.1 Released!
Fixed some minor bug issues
Now compatible with Abantecart 1.2.7
Works with php 5.3 to 7.0
Single Installation License
$14.95
---
Single installation, is for use by single site or one copy of application using this extension
Extension is provided with 120 day support from author with free upgrades within this time frame
| | |
| --- | --- |
| From | United States |
| Member since | Apr 03, 2016 |
| Avg. Response Time | 1 days, 19 hours, 55 minutes |
Viewed 68732 times
Details
| | |
| --- | --- |
| Extension ID: | blog_social |
| Extension Latest Version: | 1.0.1 |
| AbanteCart Version: | 1.2.4, 1.2.5, 1.2.6, 1.2.7 |
| Created: | Apr 07, 2016 |
| Last updated: | Jul 04, 2016 |