Original Share social buttons quick integration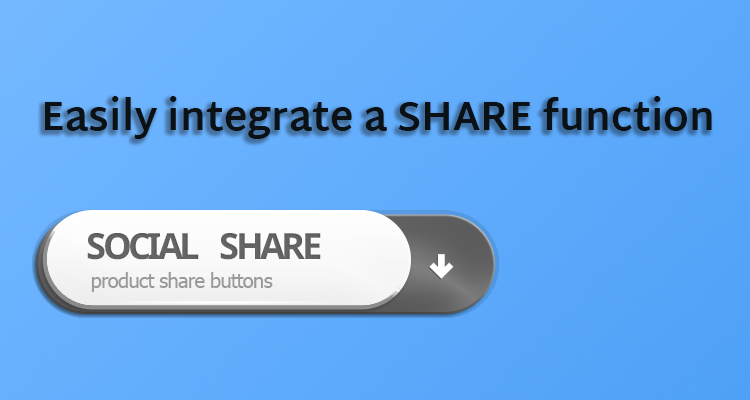 Share Buttons
Add Original Share buttons to your online store's product pages to help generate more sales. Sharing buttons help you to increase your audience by engaging with people who are not on your site, as well as distribute content across multiple social networks and platforms helping to drive traffic to your site.
Integration plugin that'll handle all the setup for you, so you never have to touch a line of code!
Features
* Easy to install.
* Select your own social services.
* Facebook original share button (Open graph product image meta tag)
* Facebook like button
* Google+ share button
* Twitter original share button
* Pinterest original share button
* tumblr original post button
* linkedin original post button
Change log
Version 1.0.13 Apr 3, 2017
- tumblr and linkedin buttons added
Version 1.0.12 Jan 8, 2017
- fb api update
Version 1.0.11 Aug 28, 2016
- AbanteCart img url fix
Version 1.0.9 Nov 12th, 2015
- Facebook Open Graph Markup extension compatibility
Version 1.0.8 Oct 23th, 2015
- facebook-compatible og:description tag with price
Version 1.0.3 Oct 16th, 2015
- facebook-compatible image meta tag
- og:description tag
Version 1.0.0 Sep 10th, 2015
- facebook api 2.4 update
Single Installation License
$15.00
Single installation, is for use by single site or one copy of application using this extension
Viewed 22797 times
Details
| | |
| --- | --- |
| Extension ID: | share_buttons |
| Extension Latest Version: | 1.0.17 |
| AbanteCart Version: | 1.2, 1.2.0, 1.2.1, 1.2.2, 1.2.3, 1.2.4, 1.2.5, 1.2.6, 1.2.7, 1.2.8, 1.2.9, 1.2.10, 1.2.11, 1.2.12, 1.2.13 |
| Created: | Sep 15, 2015 |
| Last updated: | Aug 20, 2018 |