Zoom to Image Popup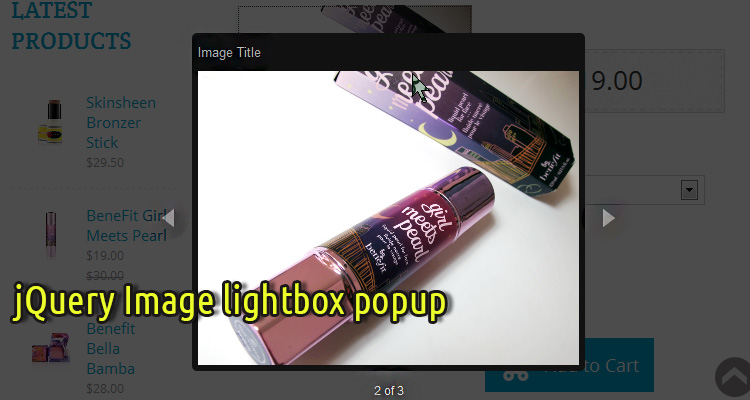 lightbox_html5 is a Vanillabox-like jQuery plugin designed for default html5 AbanteCart template.
The lightbox_html5 feature allows you to open product images in a window that floats directly over the page. Script will automatically resize image to fit the page.
Features
* Simple design, no decoration. It focuses your content.
* Keyboard navigation - use left/right arrow key to navigate
* Responsive - smoothly adapts to any browser resolutions
* 4 visual themes included
* compatible with all major browsers
* option to grouped images continuous loop
* close button
* fit a large content to the window bounding rectangle
* option to disable Keyboard navigation
Extension supports:
AbanteCart built-In default html5 template,
Ellie theme, FoxY theme, Katrin theme, RoksY theme
Please install the extension with the appropriate version
Abantecart version addon version
1.2.11........................lightbox_html5 3.2.7
1.2.10........................lightbox_html5 3.2.6
1.2.8, 1.2.9................lightbox_html5 3.2.5
1.2.7+........................lightbox_html5 3.2.2
1.2.6..........................lightbox_html5 3.2.0
1.2.4, 1.2.5................lightbox_html5 3.1.0
1.2.4..........................lightbox_html5 3.0.1
1.2.2..........................lightbox_html5 2.0.2
1.2.1..........................lightbox_html5 2.0.1
1.1.6 - 1.1.9...............lightbox_html5 1.0.0
Single Installation License
$12.00
Single installation, is for use by single site or one copy of application using this extension
Viewed 12240 times
Details
| | |
| --- | --- |
| Extension ID: | lightbox_html5 |
| Extension Latest Version: | 3.2.7 |
| AbanteCart Version: | 1.1.6, 1.1.7, 1.1.8, 1.1.9, 1.2.1, 1.2.2, 1.2.3, 1.2.4, 1.2.5, 1.2.6, 1.2.7, 1.2.8, 1.2.9, 1.2.10, 1.2.11 |
| Created: | Sep 08, 2014 |
| Last updated: | Nov 15, 2017 |