Social Media Icons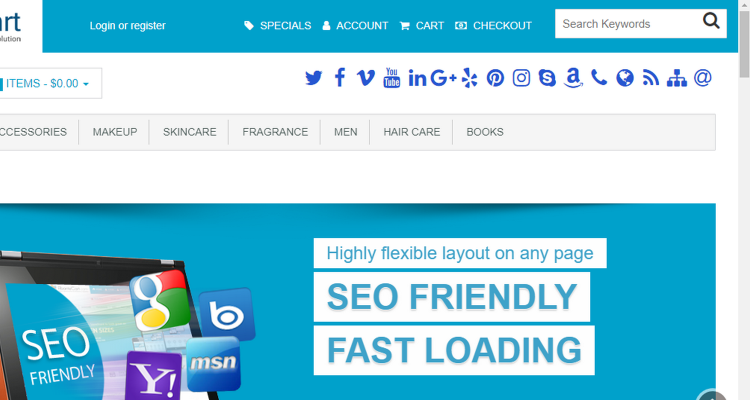 Social Media Icons
Is the easy solution to adding up to 16 of the most popular social media icons/links. 2 links are customizable to any link and any font awesome icon
Show 1 link or all 16, all links only show if selected to on.
Links Include
Twitter
Facebook
Vimeo
YouTube
Linkedin
Google Plus
Yelp
Pinterest
Instagram
Skype
rss/xml feed.
mail
www link
customizable link
2nd customizable link
sitemap
Select target= on icons and custom icons .
On hover icons changes to 50% opacity.
Default icon image color choice
gray image icons
color image icons
rounded gray image icons
rounded color image icons.
Version 2.1 Updates included
Added Font Awesome icon choice, if using the font awesome selection, You can adjust icons size, icon color and icon style, square icons or rounded when available.
Version 2.2 Updates include
Added bootstrap-colorpicker for Icon color choice, makes it easy to choose any color.
Version 2.3 Updates include
css fix.
Version 2.4 Updates include
fixed default rss icon color.
Version 2.5 Updates include
Added email icon
Added 2nd custom icon/link option.
Added selector to choose icon link target
examples
target=blank
target=self
target=top
target=parent,
custom links have own target option.
solves page opening on phone link.
Version 2.6 Updates include
By request, Added sitemap icon/option
added sitemap icons to default set . reduced image size/weight of all default icons.
Single Installation License
$20.00
Single installation, is for use by single site or one copy of application using this extension
Viewed 1125 times
Details
| | |
| --- | --- |
| Extension ID: | socialmedia |
| Extension Latest Version: | 2.6 |
| AbanteCart Version: | 1.2 |
| Created: | Mar 19, 2018 |
| Last updated: | Apr 21, 2018 |