SMS Alert For international Country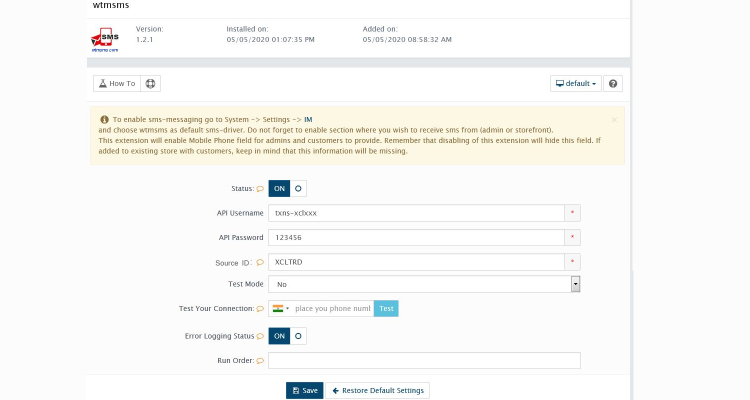 wtmsms world leading sms platform we have provide SMS Alert for admin and customer this extension work in below country Afghanistan, Albania, Algeria, Andorra, Angola, Anguilla, AntiguaandBarbuda, Argentina, Armenia, Aruba, Australia, Austria, Azerbaijan, Bahrain, Bangladesh, BARBADOS, Belarus, Belgium, Belize, Benin, Bermuda, Bhutan, Bolivia, BosniaandHerzegovina, Botswana, Brazil, BritishVirginIslan, BruneiDarussalam, Bulgaria, BurkinaFaso, Burundi, Cambodia, Cameroon, CapeVerde, CaymanIslands, CentralAfricanRepublic, Chad, Chile, China, Colombia, Comoros, Congo, CookIslands, CostaRica, Croatia, Cuba, Cyprus, CzechRepublic, DemocraticRepublicoftheCon, Denmark, Djibouti, DominicaCommnwealth, DominicanRepblic, EastTimor, Ecuador, Egypt, ElSalvador, EquatorialGuinea, Eritrea, Estonia, Ethiopia, FaroeIslands, Fiji, Finland, France, FrenchGuiana, FrenchPolynesia, Gabon, Gambia, Georgia, Germany, Ghana, Gibraltar, Greece, Greenland, Grenada, Guadeloupe, Guatemala, Guinea, Guinea-Bissau, Guyana, Haiti, Honduras, HongKong, Hungary, Iceland, Indonesia, Iran, Iraq, Ireland, Israel, Italy, IvoryCoast, Jamaica, Japan, Jordan, Kazakhstan, Kenya, Kuwait, Kyrgyzstan, Laos, Latvia, Lebanon, Lesotho, Liberia, Libya, Liechtenstein, Lithuania, Luxembourg, Macau, Macedonia, Madagascar, Malawi, Malaysia, Maldives, Mali, Malta, Mauritania, Mauritius, Mexico, Moldova, Monaco, Mongolia, Montenegro, Montserrat, Morocco, Mozambique, Myanmar, Namibia, Nauru, Nepal, Netherlands, NetherlandsAntilles, NewCaledonia, NewZealand, Nicaragua, Niger, Nigeria, Norway, Oman, Pakistan, Palestine, Panama, PapuaNewGuinea, Paraguay, Peru, Philippines, Poland, Portugal, PuertoRico, Qatar, Reunion, Romania, RussianFederation, Rwanda, SaintKittsandNevis, SaintLucia, Samoa, SaudiArabia, Senegal, Serbia, Seychelles, SierraLeone, Singapore, Slovakia, Slovenia, SolomonIslands, Somalia, SouthAfrica, SouthKorea, SouthSudan, Spain, SriLanka, St.Vincent&Grenad, Sudan, Suriname, Swaziland, Sweden, Switzerland, Syria, Taiwan, Tajikistan, Tanzania, Thailand, Togo, Tonga, TrinidadandTobago, Tunisia, Turkey, TurksandCaicosIslands, Uganda, Ukraine, UnitedArabEmirates, UnitedKingdom, Uruguay, USA-Canada, Uzbekistan, Vanuatu, Venezuela, Vietnam, Yemen, Zambia, Zimbabwe, 1)Smart Connectivity Multiple Operator (200 + operator) Connectivity Across world, 2)Multi-Platform Depending on your needs and requirements, available are SMPP, XML, HTTP and REST APIs for integration How to used:
wtmsms SMS Configuration
With wtmsms SMS service you can enable AbanteCart to send SMS notifications to administrators and customers. SMS can be sent to admin in event of new orders, low stock and some other events. Storefront customers can get SMS with order updates, specials and other events.
Notifications are managed in admin profile or in customer profile
1. To use this extension, you need to have active wtmsms account.
If you do not have wtmsms account, please follow
this link
to create an account
2. Fill in required fields (API Username/Password ) with information provided by wtmsms.
3. Select wtmsms as SMS provider in System -> Settings -> IM.
Now wtmsms can be used in admin and storefront to send notifications.
Access wtmsms
Single Installation License
FREE
---
Single installation, is for use by single site or one copy of application using this extension
| | |
| --- | --- |
| From | India |
| Member since | Jan 09, 2020 |
Viewed 72894 times
Details
| | |
| --- | --- |
| Extension ID: | xcellindia_wtmsmsint |
| Extension Latest Version: | 1.2.2 |
| AbanteCart Version: | 1.2+ |
| Created: | May 13, 2020 |
| Last updated: | Jul 07, 2020 |